Exorcist
Basic Information
Name:
Claec Stronghold.
--
Nickname:
Sera.
---
Special Title:
Not ranked yet.
Gender:
M.
Age:
19.
Weight:
[159] lbs
Height:
[6]'[1]"
Loyalty:
[Himself]
Birth-date:
[September] [9]
Place of Birth:
Edo-Japan.
Place of Living:
[The Black Order European H.Q.]
Black Order Branch:
[European]
Personality:
Claec is an anti-social in most aspects of life. He would rather be alone, because it's what he's accustomed to, than being with a lot of people. Despite this, he comes off as if he's really driven, and will occasionally become loud and anxious. At times, depending on the situation, he can become very philosophical and more mature than his age, acting more like an elder, or a father even. This stems from the fact that he never really had a father, and that he had to become the man he wanted to be himself, rather than mirroring someone else, as often the case. He's also been known to be very sweet and nice suddenly, mainly when no one is around to judge him, and will even go as far as to help out a stranger he sees as a good person. But on the more negative spectrum, he's very rash, unforgiving of people when they make foolish mistakes. He also hates arrogance, and will completely shun a person if they're arrogant. He also has a trust issue, and has been shown to be too cautious at times, paranoid even. Briefly put, he's a complex person and it takes a while to really get to know him.
Appearance:
Usually Claec is a bit rebellious about the Exorcist uniform, and will instead wear whatever he finds in his closet. His uniform, however, if mainly like that of every other exorcist, with the exception that his coat and shirt have about 4 more buckles than the regular. Unlike his sister, and his younger self, Claec has dark brown hair, and grey-blue eyes, recessive genes that run in the family.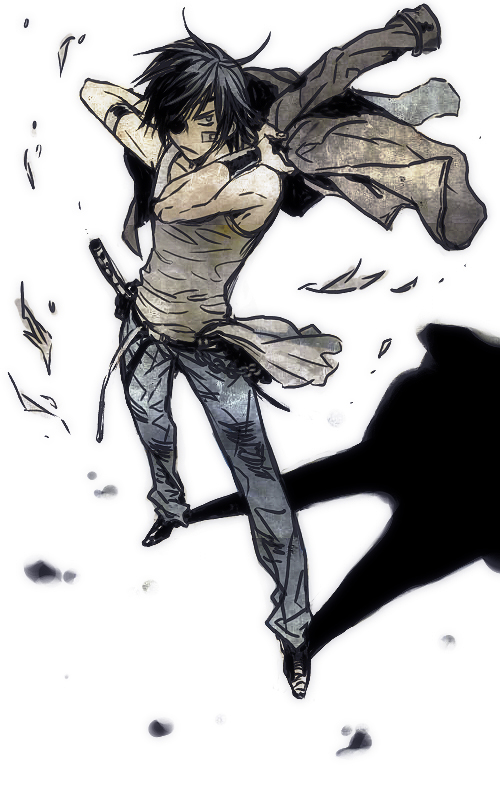 Statistics
Excellent, Above Average, Average, Below Average, or Poor. For every Excellent you have, you need one Poor or two Below Average. For every Above Average, you need one Below Average. If wanted, you can have them all Average.
Strength:
Average.
Speed:
Average.
Stamina:
Average.
Innocence/Chi Synch:
Average.
Intelligence:
Average.
Anti-Akuma Weapon Information
Weapon Type:
Long Sword, Katana: Angel's Tears: A cursed sword forged from an unknown substance that makes the blade appear as if it were silver steel. It as a plain look to it, most times, when not being used correctly it has really no additive abilities. When its power is tapped into, however, the blade becomes dark, and the rest of the sword darker than even that, giving it the appearance that it's tainted with something. Using this sword will take a toll once, reaping the user of they sight, little by little.
Weapon Class:
Equipment.
Weapon Appearance:
Weapon Abilities:
-[Nine Heavens]: The ability refers to 9 unique energies: Fire, Water, Earth, Wind, Lightning, Ice, Darkness, Light, and Spirit. Each has their own attributes and abilities, which makes them useful in unique ways. Depending on how one uses, combines, and matures these abilities, their combat style will differ and blossom.
-[Corrupt Soul]: A temporary break in spirit will lead to an ability labeled Corrupt Soul, only possible to achieve while one is wielding the "Angel's Cry." Energies from the "unknown" are taken and sued to power up the wielder, giving them the temporary ability to heal, gain more power, become faster, move more agily, and use more energy, all by cutting people. The more cut, the more it goes. At its strongest, it will create a large demonic being of raw energy around the wielder.
-[Trained Soul]: Simply refers to the fact that they have received other world training to strengthen themselves, and become more versatile in all aspects of combat. Healing, Movement, Perception, Senses, Strength, Defense, Speed, Accuracy, all receive a big increase.
Innocence Location:
The right wrist, though it's only so to activate the sword's abilities.
Background and Roleplay Information
History:
Claec was born into a small family of two. His father was named Giovanni Strong hold, a European, and his mother Ayako. They married when she
was only young, and had him several years later. As the first born, he received allot of attention.
One day, as his father and him strolled through the park, he caught sight of a small bunny hopping away. Curious to know where it was going, he followed after it. As he followed after the fluffy white bunny, he couldn't help but feel as if something was about to happen. With this in mind he turned around and only aught a glimpse of his fathers form being struck by a train. It came as a great shock to him, and drove him to tears.
After a few hours of intensive treatment, his father had died, but he refused to accept it and clung to his cold mangled body. It only grew worse when his mother found out, as he was shunned and forced to go a time without food, or clean clothes. His mother had had a severe break down, and gone into even greater shock at the loss of her husband. Unknowing of what to do, Claec found himself crying outside on the porch, when he was approached by a strange man known as the Millennium Earl. While the two spoke, the Earl offered Claec a chance to revive his father, but before he could accept, his mother had instead. The earl laughed at this and agreed to revive her husband and his father.
During the "revival," Claec was forced to watch as his mother was possessed and screamed in agonizing pain, something he still hears to this day, and give birth to his sister. Unwanting of her to hurt his beloved new sister, he took her and embraced her protectively, crying as his mother shouted and yelled for them to be gone. He never saw his mother again, and ended up being adopted by an elderly women, along with his little sister. Depression hit hard after that. He was only about 3 when he started having nightmares of his mother showing up at night with their father, and being brutally murdered at their hands. It only grew worse over time as he began to grow scared at cry at night. He ended up relying heavily on his younger sister.
Five years after the birth of his sister, they were off playing at the war ruins when it finally occurred. Out of the blue, his sister grew a set fo claws for hands, and fired upon him. Luckily, he evaded. Aemi ran away then, but he was too scarred to run after her. Only several minutes later, he had run off to find her, but instead found she was being taken away by the Exorcist. Not much time passed before their care taker passed away, and he was abandoned once more. Luckily, he would receive the first stroke of luck in his entire life.
Not long before his family had been ripped apart, he found himself coming across a dojo where Samurai trained. He wandered in longing for shelter, and stopped instead to watch them train. The master of the Dojo watched as he did, feeling as if he had waited for him to arrive. After confronting Claec, he convinced him to stay, which marked the beginning of a new life. Here, he spent the first year as a chore boy, doing house hold chores that he was capable of performing, such as cleaning and polishing swords. Soon, he had learned the basics and had even learned to sharpen and maintain a sword. It wasn't long before he was offered to start training, which he great fully accepted.
He spent the next years of his life in this dojo, training in the art of the sword vigorously. Once he had turned 10, he was to meet an exorcist for the second time in his life. This time, however, they were there to find a person to wield an weapon infused with innocence. After discussing it with the Dojo Master, they were turned down but shown around anyway. Luckily, they had left the weapon in the Master's meeting room.
After wandering in, Claec caught sight of the case and curiously walked over to see what it was. After opening it, he found a beautiful sword, seeming to have been crafted by the gods themselves. Unable to resist wielding it, he took hold of the handle and found himself being over powered by the sword itself. It became heavy, and caused him great agony as the Innocence began to try and merge with his soul. It wasn't soon before the Exorcists had returned and found him screaming in agony, at the mercy of the weapon. Shockingly, he survived and only passed out. Unable to comprehend this phenomena, the Dojo master allowed them to take him, and they did just that.
When he next awakened, a week later, he was inside the head quarters of the Asiatic branch of the Black order. It wasn't long, then, before he was undergoing odd tests of wits and intelligence. he passed all with high scores, and was admitted to train to become an exorcist. He didn't resist or protest, and instead underwent the training. It wasn't soon after until he was told that his sister had been their, but was residing in the European branch. But in order to get there, he was going to have to become stronger and apply for a transfer there. It was then made his resolve to grow strong enough to obtain this.
Years passed, and on his 18th birthday he was finally transferred to the European branch. However, he was admitted under an alias as a request of his. The other members there, besides the leader, do not know him as Claec, but as Sera.So far, he has yet to speak to anyone, or even speak to his sister. But he intends to, when the time is right.
Code of Approval:
=w=
Roleplay Sample:
Boo, said the ghost.
-------------------------------
[Please Erase this part if you do not use a Face Claim. Do not forget to erase this message!]
[ SHOW, Shows Character Name, Your Character's Name ]