Exorcist
Basic Information
Name:
Cross, Marian
--
Nickname:
General, Master.
---
Special Title:
Current General of European Branch
Gender:
Male, this would be obvious if one were to check his pants....thats not a flashlight ;D
Age:
Unknown, looks mid to late 30's
Weight:
180 lbs
Height:
6'4"
Loyalty:
The Black Order
Birth-date:
July 31'st
Place of Birth:
Unknown
Place of Living:
Black Order European Branch
Black Order Branch:
European
Personality:
Cross Marian is a womanizer who loves to gamble and drink. When he gambles, he makes extravagant bets and, if he loses, he never pays, leaving Allen or someone else to do so. When he was training Allen, he forced his apprentice into battle with no time to prepare and taunted Allen as he fought to "help" him. He only loves very few things: women, wine, money and beautiful things. When in battle himself, he acts very cold and uncaring.
He is shown to be a gruff, demanding individual who is hard to please. In fact, he usually refers to Allen as "Idiot apprentice" or Stupid Pupil in the English manga. Most of the Black Order considers Cross a great man, to which he is, however, he is normally always rude and tough on Allen. This could be because Allen is his apprentice and thus he has to be hard on him. Allen fears him which is hinted from the fact most of his flashbacks that include Cross end with some kind of traumatizing (usually humorous) experience. Despite all this, Cross has shown a softness underneath his rough exterior for certain people.
Appearance:
Statistics
Strength:
Above Average
Speed:
Above Average
Stamina:
Excellent
Innocence/Chi Synch:
Perfect
Intelligence:
Excellent
Anti-Akuma Weapon Information
Weapon Type:
Gun
Weapon Class:
Equipment
Weapon Appearance: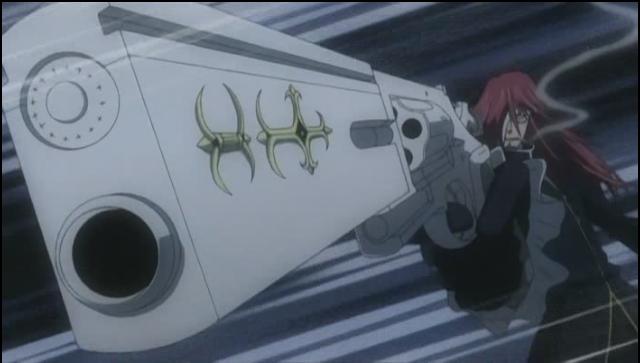 Weapon Abilities:
Level one:
at Judgments general level its ability is "Cross Bullets" When fired, the bullets will continued to fly until they have hit their target no matter what, even if they don't cause any damage, upon impact with the target, the bullets will leave cross shaped markings where they hit.
Level two:
Judgments level two ability forms the shape of a demon-like bow around Judgment as a cross symbol appears in front of it, this blast is extremely powerful and has the power to kill level 3 Akuma and Akuma eggs.
Level three:
Judgment level three allows Cross to use his bullets on a "Purification" level, these bullets are incredibly power, it only took 6 of them to bloat and completely render a level 4 Akuma useless, not to mention Cross can fire his bullets with impossible speeds, a level 4 Akuma could only keep up with one of the bullets.
Anti-Akuma Weapon Information
Weapon Type:
Sound
Weapon Class:
Parasitic
Weapon Appearance: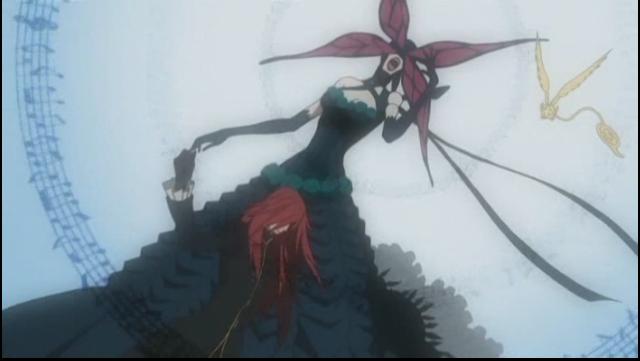 Spoiler:
Weapon Abilities:
Level one:
Magdala Curtain (聖母ノ加護 (マグダラ・カーテン), Magudara kāten), Maria uses her song to create illusions that can conceal the presence of others
Level two:
Arte Garde (脳傀儡 (カルテ・ ガルテ), Karute garute) which allows her (or Cross) to control the person's movements by affecting the brains of both humans and Akuma (the fact that this would be overly OP, it can only be used to control those who cannot move already, if someone is passed out, if they are conscious, he cannot use this on them unless they give consent IC or OOC and will not work at all on Noah or Sorcerers/Special humans.)
Level three:
Silencioso crescendo: ((WILL BE ADDED LATER))
Innocence Location:
Judgment: The gun its self
Grave of Maria: Voice box
Sorcery
: Cross is noted to be quite skilled and well-versed in magic, able to use spells. With these spells, he has been seen binding Skull sorcery, disguising himself as a Skull, transporting people from one location to another, and binding the Innocence of a deceased Exorcist, Maria, to himself, allowing him to use her Anti-Akuma Weapon. The incantations Cross has been seen using[50] are the same as the ones Skulls have been seen using[51], though the final command ("Take Effect, Bind" in Cross' case and "System Conversion, Arise" in the Skull's case) seems to change the intent of the spell.
Background and Roleplay Information
History:
Refer to
http://dgrayman.wikia.com/wiki/Cross_Marian
(will add more to the time when he dissapears to the time he gets back at a later time.
Code of Approval:
Heh, hell no.
Roleplay Sample:
Ive been around you long enough, you know how I rp.
-------------------------------
[ D.Gray Man, Cross Marian, Cross Marian ]