Exorcist
Basic Information
Name:
Chakra Tu Valliere
--
Nickname:
Despair
---
Special Tite:
Despair of Innocence
Gender:
Male
Age:
15
Weight:
121.3 lbs
Height:
5'5"
Loyalty:
Black Order
Birthdate:
25/12
Place of Birth:
Unknown
Place of Living:
Black order
Personality:
Chakra's Personality is a Distraught and darkened path, Suffers from BPD [Borderline Personality disorder], this is where his personality and Mood changes in an instant from happy to depressed and chaotic.
He had always been moving around from place to place never really staying in one Place for long traveling the world with a freak circus showing his talents to everyone who comes to watch, unlike most people he is anti-social and self hearted showing no remorse due to the fact noone ever cared for him as a child
Appearance:
Anti-Akuma Weapon Information
Weapon Type:
Arm
Weapon Class:
parasite
Weapon Appearance:
Normal (Without the glow)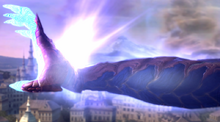 (Activated)
Weapon Abilities:
Cross Bringer: The Arm forms a aura version of the arm 3 times as big and attempting to Grab and bring in the opponent closer
Pentagram Grave: the Pentagram on his arm which is where the light mostly comes from glows wildly, as he aims for his opponent after touching the opponents stomach a giant pentagram appears behind them killing them, if it hist anything else apart from the stomach, the Pentagram will form over that part and either Destroy it or badly injure it
Innocence Location:
Pentacle on his arm
Background and Roleplay Information
History:
Chakra was abandoned as a child because of his right arm and was found by circus travelers that took him in, as he got older to the age 4 he started to preform in the circus and his right arm helped him preform doing various trick to keep the audience happy and amused making him earn the title Freak arm which made his BPD[Borderline Personality disorder] kick in making him lose remorse for other people caring less and evidentially making him have two personalities.
at the age of 6 he was scouting for wood when a man with a pentacle on his head showed up out of the woods with drooling motionless face and transformed into an Akuma because of the innocence within Chakra's arm, then started attacking Chakra with the guns, as chakra was running he dropped all the stick as he tripped spraining his ankle, Upon turning round the akuma was right above him shooting the guns at him when at that moment one of the bullets shot straight into his Right eye causing it to bleed massively, all of a sudden his disfigured right arm Transformed having a mind of it's own crushing the Akuma with it's Cross Bringer Blowing up the akuma, since that fateful incident his eye had a pentagram around his right eye as a symbol of an curse to him But because of that incident he was kicked from the Circus because they thought that he mad the Explosion, thus he has been living alone around the world.
He Was Founded by the Commanders of the Black order and was Sentenced to enter in the order and work as an Exorcist, He Passed the Initiation beside the fact of the pentagram on his face and since then have been across from country to country training and fighting Akuma's
Roleplay Sample:
Chakra Jumps from Tree to tree dodging the Akuma's attacks, gun bullets shoot from every sense of direction almost killing Chakra
"i have had enough time to get away from the Town " Chakra jumps into the air with his right hand in the sky " Innocence Activate!!!!!" his arms expands into a bulkier and more darker red color with purple light spiralling around the arm,
" Cross Bringer" The Akuma was caught by the extend of his arm and was Crushed as he clenched his fist